News
Details

Category: News
Written by NewsOne
As Charles Pierce noted, now that Michelle Bachmann has left Congress to take her crazy show on the road and earn a real coin for it, there's a rush among like-minded narcissistic nitwits to see someone seize her crown. No disrespect to others in contention, but Rep. Blake Farenthold (R-TX, pictured) is clearly proving that he is in it to win it.
...
Details

Category: News
Written by Roz Edward, National Content Director
Birmingham, Alabama (CNN) -- The pilot and co-pilot of a UPS cargo plane did not issue a distress call prior to crashing while on approach Wednesday to Birmingham's airport, a National Transportation Safety Board official said.
While UPS said the status of its crew remained unconfirmed, Birmingham Airport Authority Chairwoman Gaynell Hendricks and the city's mayor confirmed the pilot and co-pilot died in the crash.
"It's a grim scene," Hendricks told CNN affiliate WBRC.
The plane, an Airbus A300-600F, broke into pieces, spreading the majority of the debris over an area of about 300 yards, said Robert Sumwalt of the NTSB. A photograph provided by city officials shows the crumpled front portion of the plane resting in a debris-strewn field.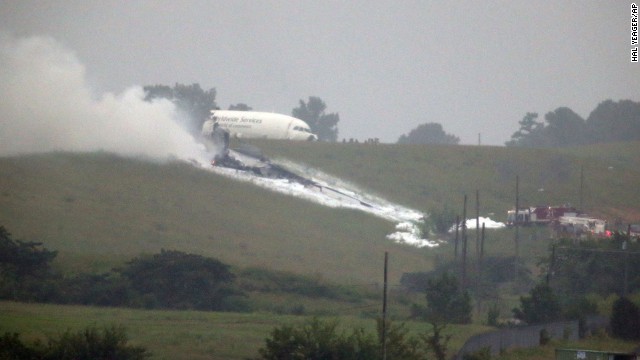 Photos: UPS cargo plane crash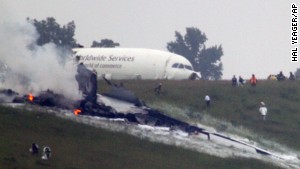 UPS plane crash: Third mishap in a month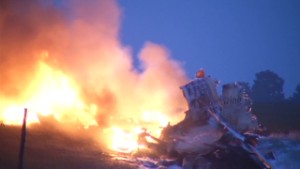 UPS cargo plane crashes in Alabama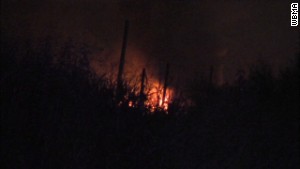 UPS plane crashes in Alabama
The plane, which took off from Louisville, Kentucky, went down around 4:45 a.m. on a street that runs parallel to the Birmingham-Shuttlesworth International Airport, Mayor William Bell said.
The location is about a half-mile north of the runway, FAA spokeswoman Kathleen Bergen told CNN.
NTSB investigators have yet to retrieve the cockpit and voice recorders of the plane because the wreckage is still smoldering, Sumwalt said. Once the fire is out, authorities will retrieve the recorders, he said.
Even so, investigators have begun working to piece together what led to the crash.
The crew did not issue a distress call, Sumwalt said, confirming what the mayor said earlier.
The crew did not report any trouble, Bell said, citing conversations with control tower officials. Light showers and a visibility of 10 miles were reported in the area of the airport at the time of the crash, according to CNN meteorologist Dave Hennen.
A spokesman for Bell, the mayor, confirmed late Wednesday morning that no buildings were hit and no one on the ground was injured.
Five facts to calm plane crash fears
Alabama Power cut electricity to about 140 buildings near the crash site as a precaution, utility spokesman Michael Sznajderman told CNN.
Witness Peter Torres, a Civil Air Patrol member who said he is a former airline mechanic, said he thought he heard what sounded like a backfire from the jet's engines as the plane passed overhead. He rushed to his window.
"I saw the flash," of an apparent explosion, he said, followed by a "boom" that shook his home.
Airport neighbor Sharon Wilson told WBRC the plane seemed lower than usual for flights into the airport and sounded like it was sputtering as it flew overhead.
"We heard this loud boom, like, jump up out of your bed," she told the station.
The plane was one of two flights UPS sends to Birmingham each day, company spokesman Mike Mangeot told CNN affiliate WBRC.
"This incident is very unfortunate, and our thoughts and prayers are with those involved," UPS Airlines President Mitch Nichols said in a statement.
The plane that crashed Wednesday was built in 2003 and had 11,000 hours in the air spread over 6,800 flights, Airbus said in a news release.
Only UPS and FedEx fly the A300 in the United States, according to its manufacturer, Airbus. While it was once used for commercial passenger flights in the United States, the plane is now used only for cargo flights. UPS has 53 of the planes, according to Airbus.
Wednesday's crash is the second involving an A300 in the United States. In 2001, an American Airlines A300 crashed in the Belle Harbor neighborhood of Queens, in New York City, shortly after takeoff from John F. Kennedy International Airport.
All 260 people on board the plane, as well as five people on the ground, were killed.
The cause was ultimately attributed to pilot error, according to the NTSB, which said the first officer put excessive pressure on the rudder pedal, causing the separation of the vertical stabilizer.
The Birmingham crash is the second fatal accident involving a large jet in the United States since early July, when an Asiana Airlines Boeing 777 crashed on landing at San Francisco International Airport. Three people died.
Wednesday's crash comes nearly three years after UPS's last major incident, the crash of a Boeing 747 in Dubai, United Arab Emirates, that killed two crew members.
Investigators traced the crash to a large fire in the cargo hold, which included a number of flammable lithium batteries, according to the country's General Civil Aviation Authority.
In 2006, a McDonnell Douglas DC-8 flown by UPS caught fire after landing at Philadelphia International Airport. Three crew members on the plane evacuated with minor injuries, according to NTSB records. Most of the cargo was destroyed.
CNN's David Mattingly reported from Birmingham, with Michael Pearson and Chelsea J. Carter writing in Atlanta. CNN's Marlena Baldacci, Aaron Cooper, Mike Ahlers and Stephanie Gallman also contributed to this report.
Details

Category: News
Written by CBS
Marc and Lauren Gilbert were terrified when they heard a strange voice calling out to their 2-year-old daughter Allyson, through a baby monitor in her room. The Texas family learned the hard way that almost anything connected to the Internet can get hacked.
According to ABC News, Gilbert was washing dishes on the night of Aug. 10., when he heard noises coming from his daughter's room. He and his wife went in to investigate the situation, when they witnessed something more disturbing than they thought possible.
A voice coming through a baby monitor, that was hooked up to the home's wireless Internet system, appeared to be operating on its own. CNN reports that the hacker used the device to curse and say sexually explicit things to the sleeping girl -- calling her by name and telling her to wake up.
Gilbert says the hacker was able to take control of the camera and see his daughter's name on the wall. In a panic, he pulled the plug on the device. The girl was not disturbed by the hacker's calls because she was born deaf, having to depend on a cochlear implant to hear.
Dave Chronister, who is the managing partner of Parameter Security, did not consult the Gilbert family, but works for an ethical hacking company that is familiar with these types of hacks. Chronister believes that the Gilberts were using a webcam, equipped with speakers, that was compromised.
"In this case, what it sounds like is that they set this camera up, and someone cracked into the wireless network," Chronister told CBSNews.com.
Chronister says that cracking into these webcams is similar to breaking into a website. If a password is not set, or is weak, the website that is used to manage the device can be compromised.
Parents can protect their homes by setting a strong password. Chronister recommends using Wi-Fi Protected Access 2 (WPA2) to set up a password because it uses better encryption standards and is very difficult to crack, especially combined with a good password.
Chronister says that these hacks are often times just kids pulling a prank, and warns of a phenomenon called "wardriving" -- where people drive around looking for homes with weak wireless security.
"The thing to understand is that not all hackers have pointed at you as a target. You just happened to have a device that they know how to hack, so they hack it," Chronister says.
To parents worried about their own home monitors being hacked, Chronister says: "Make sure you punch in a password and make sure it's long."
Gilbert did not report the incident to the police, and says the family will probably ditch the device permanently.
Read more: http://www.cbsnews.com/8301-205_162-57598385/baby-monitor-hacked-spies-on-texas-child/
Details

Category: News
Written by Huffington Post
WASHINGTON — Choking back tears, Jesse Jackson Jr. apologized to the American people and his family, including his father the civil rights activist, at a court hearing Wednesday to set sentences for the former Illinois congressman and his wife. The couple pleaded guilty to misusing $750,000 in campaign money on splurges such as a gold-plated Rolex watch, vacations and mounted elk heads.
Jackson told the federal judge that he hoped his son and daughter wouldn't suffer because of his actions and that his wife, Sandra, would receive probation. If not, he would be willing to serve her sentence for her. "Give me her time," Jackson said.
For himself, Jackson said he wanted to serve his prison time in Alabama where he could be away a while and it would be "a little inconvenient for everybody to get to me."
Read more: http://www.huffingtonpost.com/2013/08/14/jesse-jackson-jr-sandi-ja_0_n_3754738.html?utm_hp_ref=black-voices&ir=Black%20Voices
Details

Category: News
Written by Alan Duke/CNN
A federal judge has dismissed the racial discrimination claims in a lawsuit filed by a former employee against Paula Deen, the celebrity chef's representative said Monday. Some other aspects of the lawsuit are still pending.
"We are pleased with the Court's ruling today that Lisa Jackson's claims of race discrimination have been dismissed," Deen's representatives said in a statement to CNN. "As Ms. Deen has stated before, she is confident that those who truly know how she lives her life know that she believes in equal opportunity, kindness and fairness for everyone."
Details

Category: News
Written by Laura Smith-Spark/CNN
Oprah Winfrey says she's sorry for the media storm that erupted after she recounted that she was the victim of racism in a posh Swiss boutique.
Winfrey's revelation last week on Entertainment Tonight led to the upscale store being identified as Trois Pommes in Zurich and its staff was immediately caught up in a frenzy of media interest.
The manager of the boutique, Trudie Goetz, subsequently told CNN the entire incident was a "200 percent misunderstanding" and had nothing to do with racism.
Speaking at the Los Angeles premiere of Lee Daniels' "The Butler," Monday, Winfrey said the situation had been blown out of proportion.
Details

Category: News
Written by CNN
WASHINGTON (CNN) – The Justice Department will no longer pursue mandatory minimum sentences for certain low-level, nonviolent drug offenders, Attorney General Eric Holder said Monday, noting the nation is "coldly efficient in jailing criminals," but that it "cannot prosecute or incarcerate" its way to becoming safer.
"Too many Americans go to too many prisons for far too long, and for no truly good law enforcement reason," Holder told the American Bar Association's House of Delegates in San Francisco.
He questioned some assumptions about the criminal justice system's approach to the "war on drugs," saying that excessive incarceration has been an "ineffective and unsustainable" part of it.
Details

Category: News
Written by Roz Edward, National Content Director
A bull riding competition at a Missouri State Fair on Saturday night has come under fire after a clown, sporting a Barack Obama mask and a broom protruding out of his backside, was brought out to parade in front of the public, according to CNN[1].
During the bull riding competition, President of the Missouri Cowboy Rodeo Association and school superintendent Mark Ficken announced that they had a "special guest."
"The guest" turned out to be a clown wearing a President Barack Obama mask and the aforementioned stick that appeared to be stuck up his behind.
Reportedly trying to rev up the crowd, another voice over the loudspeaker said, "We're going to stomp Obama now," and, "As soon as this bull comes out, Obama, don't you move,,,, He's going to getcha, getcha getcha, getcha."
Details

Category: News
Written by Keli Goff/The Root
Bill Lynch, one of the most prominent African-American political consultants in the nation, died Friday at age 72. Though Lynch was known to battle diabetes, the cause of death was complications from kidney disease.
Lynch was credited with masterminding the election of New York City;s first, and to date, only African-American mayor, David Dinkins. He played a crucial role in forming the so-called black and brown coalition of black and Latino voters, which formed the foundation of Dinkins' historic victory. Lynch would be named deputy mayor for intergovernmental relations in the Dinkins administration.
Upon founding his political consulting firm, Bill Lynch Associates, he would also go on to have a prominent career nationally, serving as a vice-chair of the Democratic National Committee and as co-chair for John Kerry's 2004 presidential campaign.
Details

Category: News
Written by Tri-State Defender Newsroom
WASHINGTON – Men's Health Network (MHN) in partnership with the Health & Wellness Committee of Kappa Alpha Psi Fraternity have launched the "Kappa Health Challenge" smart phone app.
The free app can be downloaded by I-phone, I-pad, I-touch and I-pod users through the AppStore. The app is mainly directed towards fraternity members, but it can benefit all men in learning more about their health.
"In an effort to expand the impact of the 'Healthy Kappas – Healthy Communities' program, we approached the Men's Health Network to combine our efforts to improve the health of our Fraternity. We came up with a tool that everyone could use – the idea of a Smartphone App was formed," said Edward R. Scott, II D.M.D., chairman, Health & Wellness Committee, Kappa Alpha Psi Fraternity, Inc.
Details

Category: News
Written by Newsone
President Barack Obama signed into law Friday a measure restoring lower interest rates for student loans, pledging the hard-fought compromise would be just the first step in a broader, concerted fight to rein in the costs of a college education. Encircled by lawmakers from both parties in the Oval Office, Obama praised Democrats and Republicans alike for agreeing – finally – on what he called a sensible, reasonable approach to student loans even as he cautioned that "our job is not done."
"Feels good signing bills. I haven't done this in a while," Obama said, alluding to the difficulty he's faced getting Congress, particularly the Republican-controlled House, to approve his legislative priorities, such as gun control and budget deals. "Hint, hint," he added to laughter. But even the feel-good moment at the White House came with reminders of the bitter partisanship that still makes future deals incredibly difficult for Obama. House Speaker John Boehner, R-Ohio, called the law part of the "Republican jobs plan," while House Democratic leader Nancy Pelosi of California said it "stands in stark contrast to the House Republicans' plan to saddle families with billions more in student debt."
The rare compromise emerged only after a frenzy of summer negotiations, with lawmakers at odds over how loan rates should be set in the future even while they agreed that a doubling of rates – it kicked in July 1 when Congress failed to act before the deadline – would be bad policy and bad news for students. The legislation links student loan interest rates to the financial markets. It offers lower rates this fall because the government can borrow money cheaply at this time. If the economy improves in the coming years as expected, it will become more costly for the government to borrow money, and that cost would be passed on to students. About 11 million students this year are expected to have lower interest rates, saving the average undergraduate $1,500 on interest charges on this year's loans.
Boehner called it "a good day" and a fine example of what Washington can accomplish when petty partisanship is put aside. "With the stroke of a pen, we've now officially taken the politics out of student loans," he said. Obama cast the student loan deal as just the first of many measures the U.S. needs to make college affordable as a higher-tech economy makes advanced training and education a necessity for many workers. "The cost of college remains extraordinarily high. It's out of reach for a lot of folks," Obama said, calling it a burden as well on families who have to balance other priorities, like buying a home, with helping fund their children's educations. "We've got to do something about it." To that end, Obama said he'd be looking to the same coalition of political forces that came together on student loans as he pursues further steps.
White House officials have said Obama plans to lay out a broad and aggressive strategy in the coming months to tackle the spiraling cost of a college education. Even as they passed the bill weeks earlier, congressional officials were already talking about a broader approach to curbing fast-climbing costs and perhaps scrapping the deal when they take up a rewrite of the Higher Education Act this fall. Rates on new subsidized Stafford loans doubled to 6.8 percent July 1 when Congress couldn't agree on a way to keep them at the previous 3.4 percent rate. Without congressional and presidential action, rates would have stayed at 6.8 percent. The compromise is a good deal for all students through the 2015 academic year. After that, interest rates are expected to climb above where they were when students left campus in the spring, if congressional estimates prove correct for 10-year Treasury notes. Undergraduates this fall will borrow at a 3.9 percent interest rate for subsidized and unsubsidized loans. Graduate students would have access to loans at 5.4 percent, and parents would borrow at 6.4 percent. The rates would be locked in for that year's loan, but each year's loan could be more expensive than the last. Interest rates will not top 8.25 percent for undergraduates.
Graduate students will not pay rates higher than 9.5 percent, and parents' rates would top out at 10.5 percent. Using Congressional Budget Office estimates, rates would not reach those limits in the next 10 years. In all, some 18 million loans will be covered by the legislation, totaling about $106 billion this fall. The Congressional Budget Office estimated the bill would reduce the deficit by $715 million over the next decade.
Read more http://newsone.com/2667909/barack-obama-student-loans/
Details

Category: News
Written by Matt Smith and William Hudson/CNN
U.S. researchers reported a breakthrough Thursday in the search for a vaccine for malaria, the mosquito-borne disease that sickens millions worldwide.
More than three dozen volunteers received multiple, intravenous doses of a vaccine produced with a weakened form of the disease, scientists from the National Institutes of Health, the Navy, Army and other organizations reported Thursday.
Though the results were promising, more extensive field testing will be required, the researchers wrote. Nevertheless, the it marks the first time any vaccine trial has shown 100% success in protecting subjects from the mosquito-borne tropical disease, which sickens more than 200 million a year and killed about 660,000 in 2010.
Details

Category: News
Written by Tri-State Defender Newsroom
In an interview with NPR that aired Wednesday, Atty. Gen. Eric Holder said there are too many people in prison and it is time for federal sentencing reform.
He could announce major changes as early as next week.
"The war on drugs is now 30, 40 years old. There have been a lot of unintended consequences," said Holder in the NPR segment. "There's been a decimation of certain communities, in particular communities of color."
Subcategories