Entertainment
Top Ten DVD List for Sept. 10, 2013
"We Steal Secrets: The Story of WikiLeaks"
"Star Trek into Darkness"
"Parade's End"
"War Witch"
"Ping Pong"
Winnie Mandela (Jennifer Hudson) is a controversial figure in the annals of South African history. For not only was she the first wife of freedom fighter-turned-President Nelson Mandela (Terrence Howard), but she was also convicted of ordering numerous human rights violations.
At the height of the anti-apartheid movement, she headed a goon squad which doled out street justice to blacks suspected of collaborating with the white establishment. With Winnie's blessing, snitches would be sentenced to death by necklace, meaning by having a gasoline-soaked tire placed on their shoulders and set on fire.
updated 12:23 AM EDT, Thu September 5, 2013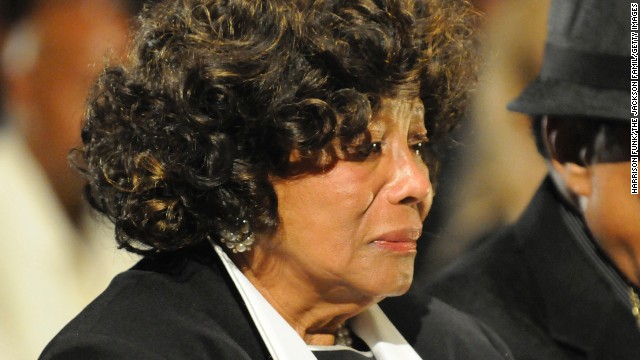 Katherine Jackson:
Michael's mother, 82, was deposed for nine hours over three days by AEG Live lawyers. As the guardian of her son's three children, she is a plaintiff in the wrongful death lawsuit against the company that promoted Michael Jackson's comeback concerts.
Key players in Jackson wrongful death trial
Los Angeles (CNN) -- The co-author of a study on propofol addiction funded by AEG Live and used in their defense in the Michael Jackson wrongful death trial lost his medical license for writing illegal drug prescriptions, according to testimony.
Dr. Torin Finver was hired to help with the AEG Live study after he lost his job at a pizza parlor and took a job driving a Goodwill truck, said Dr. Paul Earley, who testified Wednesday as an expert witness for the concert promoter.
Finver was "destitute, dead broke, and I wanted to help him," Earley, himself a recovering heroin addict, testified.
The revelation was a bizarre twist in the trial of the billion-dollar lawsuit filed by Jackson's mother and three children, which is being heard by a Los Angeles jury. The four-month-long trial is nearing a conclusion.
AEG Live lawyers will announce if they have any more witnesses to call before playing the video depositions of three more doctors on Friday. Jackson lawyers would then take several days to call rebuttal witnesses before closing arguments are heard, which is likely to happened around September 23.
Earley testified that he never disclosed to AEG Live lawyers that his co-author had lost his medical license. Ironically, the company is being accused of the negligent hiring of Dr. Conrad Murray, convicted in Jackson's death because it allegedly failed to check Murray's background before hiring him.
Jackson lawyer Kevin Boyle also grilled Earley over his nondisclosure that he was working as a paid consultant in AEG Live's defense when he submitted the study for publication in a medical journal.
He said the concert promoter did not try to influence his findings, which were published in March in the Journal of Addiction Medicine.
Nurse details Michael Jackson's fatal search for sleep
Jackson lawyers are hoping the controversy over Earley's work for AEG Live will distract jurors from his conclusion that Michael Jackson was a drug addict with a "grave prognosis" that would have shortened his life had he not died of an overdose of the surgical anesthetic propofol on June 25, 2009.
Each dose of an anesthetic his doctor gave him to help him sleep was like playing "Russian roulette," Earley said.
Murray told investigators he gave Jackson infusions of propofol for 60 nights to treat his insomnia as the entertainer prepared for his comeback concerts.
Lawyers for the concert promoter hired Earley in their effort to downplay damages the company might have to pay if found liable in the pop icon's death. How much longer Jackson might have lived -- and earned money touring -- will be important if the jury decides AEG Live is liable for damages in Jackson's death. Jackson lawyers contend he would have earned more than $1.5 billion touring the world over the next several years.
Katherine Jackson and her three grandchildren sued Michael Jackson's last concert promoter, contending the company is liable in his death because it hired, retained or supervised the doctor convicted of involuntary manslaughter.
AEG Live lawyers contend it was Jackson, not the promoter, who chose and controlled Murray, and say AEG executives had no way of knowing about the dangerous treatments the doctor was giving Jackson in the privacy of his bedroom.
For movies opening Sep. 6, 2013
BIG BUDGET FILMS
"Riddick" (R for profanity, nudity, sexuality and graphic violence) Third installment of the otherworldly sci-fi series finds Vin Diesel reprising his role as an alien antihero now left for dead on a desolate planet where he ends up in a struggle for survival after the arrival of bounty hunters searching for him. Cast includes Karl Urban, Bokeem Woodbine and Keri Hilson.
In recent years, soul food has gotten a bad rap, basically because many folks have come to think of it as unhealthy. Some have even gone so far as to indict it as the leading cause of chronic diseases and early death among African-American men over 40.
But Adrian Miller would be more inclined to blame it on a shift in the black diet's away from traditional cuisine in favor of processed and fast food. Miller, a certified barbecue judge from Denver, Colo., does concede, however, that soul food dishes were originally higher in sugar and fat than their southern food counterparts, since these ingredients were needed to spice up what were the master's leftovers which were generally starchier, blander and bonier.
In this highly-informative opus, the author not only relates the history of soul food in intimate fashion, one plate at a time, but he includes 22 recipes for such scrumptious staples as Macaroni and Cheese, Catfish Curry, Deep-Fried Chitlins, Fried Chicken, Cornbread, Candied Yams, Black-Eyed Peas, Banana Pudding and Peach Crisp.
Top Ten DVD List for Sept. 3, 2013
"The Twilight Zone: The Complete Fifth Season"
"From Up on Poppy Hill"
"Scandal: The Complete Second Season"
"Great Plains: America's Lingering Wild"
"Somm"
She's conquered hip-hop, Hollywood and Broadway; but now Queen Latifah is out to conquer daytime television with a new talk show. "The Queen Latifah Show" debuts nationally on Sept. 16. For Latifah, the latest venture is just another feather in her already impressive cap.
"My show is going to be an entertaining and eclectic mix of interviews with real people as well as celebrities – people who are fun and fascinating," said Latifah in a released statement. "It will be a program you can tune into to feel good every day. I also think it will inspire people who watch it. I know I've certainly been inspired by a lot of the stories we plan to share."
The show comes with some weighty names attached to it. Along with Oscar nominee, Latifah, the show is executively produced by power couple, Will Smith and Jada Pinkett Smith.
Rosa Parks' (1913-2005) contribution to the civil rights movement has been conveniently reduced by most historians to that fateful day in December of 1955 on which she inspired the Montgomery bus boycott by refusing to surrender her seat to a white person.
According to legend, the revered heroine's act of civil disobedience came as a consequence of her just being tired rather than as a result of any political strategy or sense of social conscious.
Truth be told, Rosa Parks had already been involved in the African-American struggle for equality for over a decade. Even as a child, she picked up a brick to defend herself when a racist boy tried to bully her. And as a teenager, she fought back against a white man who was sexually assaulting her, explaining, "If he wanted to kill me and rape a dead body, he was welcome, but he'd have to kill me first."
The circus with a purpose – UniverSoul Circus – was back in Memphis on Tuesday, with some new acts and the same agenda.
The only African-American Circus in the world, UniverSoul Circus always makes a point to tell the children to tell their parents that they love them and that they thank them for bringing them to the circus.
Tuesday's opening-night performance started with a local flavor, featuring The Millennium Madness Fancy Trick Drill Team that many have seen do their thing at the Southern Heritage Classic, area high schools and other Memphis venues.
For movies opening Aug. 30, 2013
BIG BUDGET FILMS
"Closed Circuit" (R for profanity and brief violence) Legal thriller about a couple of ex-lover lawyers (Eric Bana and Rebecca Hall) whose lives are threatened when they decide to defend the prime suspect (Dennis Moschitto) in the terrorist bombing of a bustling London market. With Jim Broadbent, Ciaran Hinds and Claudia Simmons-Howe.
One of the most fun things in life is reminiscing, and this Friday (Aug. 30) the New Daisy Theatre, 330 Beale Street, will feel like the inside of a way-back machine, with a special musical performance by Home Grown Funk.
Quite a few Memphians have connection to the band that became a household name but never made it over the national hump.
"I've met so many people over the years who have come up to me and told me how they will never forget Home Grown Funk," said Jerry "Big Jerry" Jones, who formed the band in 1972, along with John Harris and Alvin Potts (keyboards). The trio then expanded to include Lee Chastain (bass) and James Lewis (guitar).
New daddy Kanye West brought a picture of his new daughter, North West, to the Kris Jenner Show for all the world to see. The precious baby was born in June to couple Kanye West and Kim Kardashian.
Watch the big reveal below. Who do you think the baby looks like? Kanye, Kim or both?
Keri Hilson and Nicole Murphy vacation in Europe, Christina Milian and Vanessa L. Williams go horseback riding, and Phaedra Parks shows off her baby. See these and more candid celebrity photos from social media.
Hot Shots
Keri Hilson is all smiles during a vacation in Barcelona.
---
Hot Shots
Ashanti says a prayer before hitting the stage.
---
Hot Shots
Howdy cowgirl! Christina Milian goes horseback riding in Texas.
---
Hot Shots
Twelve years strong! Erica Campbell and hubby Warren Campbell celebrate their wedding anniversary.
---
Hot Shots
"Peace of mind is priceless," wrote Gabrielle Union as she relaxed on the beach with a friend.
---
Hot Shots
"You want it! You gotta work for it," wrote Ledisi after a dance session with her choreographer.
---
Hot Shots
The ever fashionable Letoya Luckett shows off a leather number after a performance in Washington D.C.
---
Hot Shots
Monica shows off a new family photo shoot with her eight-year-old son Rocko.
---
Hot Shots
Nicole Murphy is simply stunning as she vacations in Capri, Italy.
---
Hot Shots
Phaedra Parks shares a sweet momtn with a friend and her 2-month-old son Dylan.
---
Hot Shots
Selita Ebanks wishes her mom a happy birthday.
---
Hot Shots
Whoa, Ciara! Where did you find Sinbad?
---
Hot Shots
Spike Lee gets silly with Gayle King and Charlie Rose on the set of CBS' The Morning.
---
Hot Shots
"Auntie" Tracee Ellis Ross has a playful moment with her niece and nephew.
---
Hot Shots
Vanessa Williams goes horseback riding during a vacation in upstate New York.
Subcategories