Entertainment
Hate to break it to you, girls – and guys. John Legend tied the knot. To his model girlfriend. In Italy.
Legend, 34, married Sports Illustrated swimsuit model, Chrissy Teigen, on Saturday in Lake Como.
The lovebirds' wedding comes as no surprise. Teigen keeps an online blog, where she posts recipes and tidbits about her life with the famed crooner.
Last September, she posted that it was their sixth anniversary.
A suspect is dead after a shooting at the Washington Navy Yard, a senior Navy official said Monday.
Conflicting reports emerged about whether there was another shooter. Ed Zeigler, director of public affairs for Naval District Washington, told CNN earlier Monday that two suspected shooters were "down," but the senior Navy official could not confirm whether there was more than one gunman.
Multiple people were killed in the deadly shooting, Zeigler said, which sent police in SWAT team gear swarming to the scene.
In October of 2002, the entire Washington, DC area was practically paralyzed by a series of sniper attacks that was difficult to solve because the murderers didn't fit the typical serial killer profile and there was neither rhyme nor reason for how they picked their victims. Plus, the shooter's perch was inside the trunk of a car, a blue Chevy Caprice with a peephole bored out of the trunk.
That not only afforded the pair plenty of cover but enabled them to make a fast getaway from the scene of each crime. Meanwhile, the general populace waxed hysterical, having no idea from which direction the next bullet might come.
If you're interested in understanding what motivated the two madmen behind the bloody spree, then Blue Caprice is designed with you in mind. Directed by Parisian Alexandre Moors, the movie co-stars Isaiah Washington and Tequan Richmond as John Allen Muhammad and Lee Boyd Malvo, respectively.
WHAT'S HAPPENING MYRON Guess who's back? No, not me. I didn't go anywhere. I'm talking about Eddie Murphy! No, not Eddie Murphy the actor. I'm talking about Eddie Murphy the singer! Yeah, I know...same person. But Eddie hasn't made a record in years! Remember "Party all the Time?"
Now he is back on the music scene with a new song called "Red Light" featuring Snoop Dogg...or Snoop Lion rather. The laid back, smooth reggae tune is described as an anthem to raise awareness of important social changes in light of recent world events.
After I stumbled across the story about Eddie's new venture, I rushed to YouTube just to see what kind of amusement I could get out of it for a day. I mean, come on, this is the same guy who also recorded "Put Your Mouth on Me." And the song was just a bad as the title.
A fashion designer by trade, Viola Jackson graduated from Alabama A&M University, where she focused on fashion, with a concentration on design. She toured with the Ebony Fashion Fair, hitting 180 cities in nine months while having an "off-the-chain" experience right out of school. Later, she freelanced, taking advantage of behind-the-scenes opportunities.
Jackson always wanted to do movies and bowed to the suggestion that she first needed more costume experience. She thought about the circus and then about "Disney on Ice," which had fascinated her since childhood. She reached out to Disney and now the self-described "Southern girl" from Demopolis, Ala. is doing it with Disney.
The New Tri-State Defender: What is the first thing you remember that you ever wanted to be?
The sun was bouncing off my Air Jordan's and Jay Z's album, "Magna Carter," was jumping through my headphones and into my thought pattern as I arrived early at The Tug Restaurant in Harbor Town for an interview with Marnie Byford, aka MB, and Antonio Fleming, aka Cartier Hugo.
MB is a Caucasian woman and Hugo is an African-American man. So I jumped right in, asking what almost everyone would want to know, although most would be reluctant to broach.
"What brought you two together on this music game? When did black people and white people in the city of Memphis start making money together, seriously?"
In a very bold–or very foolish–move, supermodel Tyra Banks decided to pay homage to her "colleagues, competitors and friends," in a photo exhibition entitled, "Tyra Banks Presents: 15 photographed by Udo Spreitzenbarth and styled by creator director Ty-Ron Mayes," just in time for New York Fashion Week.
The "America's Next Top Model" creator transforms herself into a bevy of modeling legends, including: Cindy Crawford, Linda Evangelista, Lauren Hutton, Jerry Hall, Kate Moss, Iman, Kate Moss, Twiggy, Brooke Shields, Claudia Schiffer, Carmen Dell'Orefice, and Grace Jones. She also offers her interpretation of newbies, Kate Upton, Karlie Kloss, Cara Delevingne.
And in the pièce de résistance Tyra channels herself as a 15-year-old girl, according to the press release.
Arsenio Hall made history in the early '90s as the first national African-American late night TV talk show host.
Aimed at a hip, young demographic, "The Arsenio Hall Show" was famous for its trademark "woof woof" audience chant and never-know-who-might-stop-by guest list. The show ran from 1989 to 1994 and boasted memorable moments, some of which have become a part of pop culture lore: Bill Clinton playing the saxophone during the '92 campaign; Magic Johnson's first interview after being diagnosed with HIV; and Hall's tense show the night the Los Angeles riots broke out.
On Monday, nearly 20 years after his original run, the 57-year-old entertainer heads back to TV with a new show, "Arsenio." Where has he been? How will he carve out his own niche in a very crowed late night field that includes Leno, Fallon, Letterman, Kimmel and Stewart? To paraphrase a certain someone, "These are the things that make us go 'hmm.'"
Top Ten DVD List for Sept. 10, 2013
"We Steal Secrets: The Story of WikiLeaks"
"Star Trek into Darkness"
"Parade's End"
"War Witch"
"Ping Pong"
Winnie Mandela (Jennifer Hudson) is a controversial figure in the annals of South African history. For not only was she the first wife of freedom fighter-turned-President Nelson Mandela (Terrence Howard), but she was also convicted of ordering numerous human rights violations.
At the height of the anti-apartheid movement, she headed a goon squad which doled out street justice to blacks suspected of collaborating with the white establishment. With Winnie's blessing, snitches would be sentenced to death by necklace, meaning by having a gasoline-soaked tire placed on their shoulders and set on fire.
updated 12:23 AM EDT, Thu September 5, 2013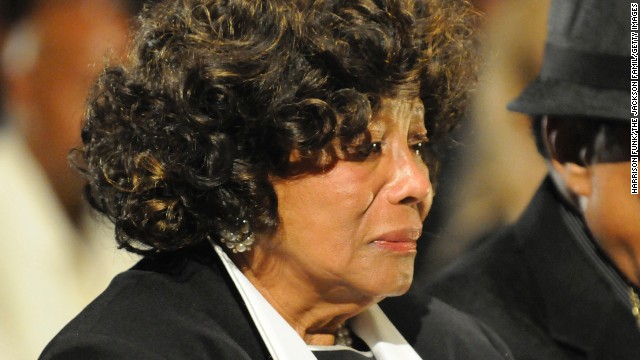 Katherine Jackson:
Michael's mother, 82, was deposed for nine hours over three days by AEG Live lawyers. As the guardian of her son's three children, she is a plaintiff in the wrongful death lawsuit against the company that promoted Michael Jackson's comeback concerts.
Key players in Jackson wrongful death trial
Los Angeles (CNN) -- The co-author of a study on propofol addiction funded by AEG Live and used in their defense in the Michael Jackson wrongful death trial lost his medical license for writing illegal drug prescriptions, according to testimony.
Dr. Torin Finver was hired to help with the AEG Live study after he lost his job at a pizza parlor and took a job driving a Goodwill truck, said Dr. Paul Earley, who testified Wednesday as an expert witness for the concert promoter.
Finver was "destitute, dead broke, and I wanted to help him," Earley, himself a recovering heroin addict, testified.
The revelation was a bizarre twist in the trial of the billion-dollar lawsuit filed by Jackson's mother and three children, which is being heard by a Los Angeles jury. The four-month-long trial is nearing a conclusion.
AEG Live lawyers will announce if they have any more witnesses to call before playing the video depositions of three more doctors on Friday. Jackson lawyers would then take several days to call rebuttal witnesses before closing arguments are heard, which is likely to happened around September 23.
Earley testified that he never disclosed to AEG Live lawyers that his co-author had lost his medical license. Ironically, the company is being accused of the negligent hiring of Dr. Conrad Murray, convicted in Jackson's death because it allegedly failed to check Murray's background before hiring him.
Jackson lawyer Kevin Boyle also grilled Earley over his nondisclosure that he was working as a paid consultant in AEG Live's defense when he submitted the study for publication in a medical journal.
He said the concert promoter did not try to influence his findings, which were published in March in the Journal of Addiction Medicine.
Nurse details Michael Jackson's fatal search for sleep
Jackson lawyers are hoping the controversy over Earley's work for AEG Live will distract jurors from his conclusion that Michael Jackson was a drug addict with a "grave prognosis" that would have shortened his life had he not died of an overdose of the surgical anesthetic propofol on June 25, 2009.
Each dose of an anesthetic his doctor gave him to help him sleep was like playing "Russian roulette," Earley said.
Murray told investigators he gave Jackson infusions of propofol for 60 nights to treat his insomnia as the entertainer prepared for his comeback concerts.
Lawyers for the concert promoter hired Earley in their effort to downplay damages the company might have to pay if found liable in the pop icon's death. How much longer Jackson might have lived -- and earned money touring -- will be important if the jury decides AEG Live is liable for damages in Jackson's death. Jackson lawyers contend he would have earned more than $1.5 billion touring the world over the next several years.
Katherine Jackson and her three grandchildren sued Michael Jackson's last concert promoter, contending the company is liable in his death because it hired, retained or supervised the doctor convicted of involuntary manslaughter.
AEG Live lawyers contend it was Jackson, not the promoter, who chose and controlled Murray, and say AEG executives had no way of knowing about the dangerous treatments the doctor was giving Jackson in the privacy of his bedroom.
For movies opening Sep. 6, 2013
BIG BUDGET FILMS
"Riddick" (R for profanity, nudity, sexuality and graphic violence) Third installment of the otherworldly sci-fi series finds Vin Diesel reprising his role as an alien antihero now left for dead on a desolate planet where he ends up in a struggle for survival after the arrival of bounty hunters searching for him. Cast includes Karl Urban, Bokeem Woodbine and Keri Hilson.
In recent years, soul food has gotten a bad rap, basically because many folks have come to think of it as unhealthy. Some have even gone so far as to indict it as the leading cause of chronic diseases and early death among African-American men over 40.
But Adrian Miller would be more inclined to blame it on a shift in the black diet's away from traditional cuisine in favor of processed and fast food. Miller, a certified barbecue judge from Denver, Colo., does concede, however, that soul food dishes were originally higher in sugar and fat than their southern food counterparts, since these ingredients were needed to spice up what were the master's leftovers which were generally starchier, blander and bonier.
In this highly-informative opus, the author not only relates the history of soul food in intimate fashion, one plate at a time, but he includes 22 recipes for such scrumptious staples as Macaroni and Cheese, Catfish Curry, Deep-Fried Chitlins, Fried Chicken, Cornbread, Candied Yams, Black-Eyed Peas, Banana Pudding and Peach Crisp.
Subcategories