Entertainment
Relying on public relations photos for your cover shots can be messy, as Jet magazine is finding out.
Jet editor-in-chief Mitzi Miller on Friday issued a defense of the magazine's use of a 10-year-old photo of cover subject Fantasia.
"JET magazine is honored to have Fantasia grace the cover of its March issue," her statement began. "It is unfortunate that Fantasia is displeased with the cover selection, however JET stands by its decision," Miller wrote.
When actor Jack Nicholson stepped on the Oscar stage Sunday night to announce the nominees for best picture, few expected him to toss to a co-presenter.
"Tonight, it is my great pleasure to introduce live from the White House, the first lady of the United States: Michelle Obama," he said.
Suddenly, the first lady could be seen standing on screen, appearing from the nation's capital in a glamorous silver and black gown. Standing in the background of her cameo, which came about seven minutes before midnight on Eastern Standard Time, was a group of military aides in formal attire.
updated 12:09 AM EST, Mon February 25, 2013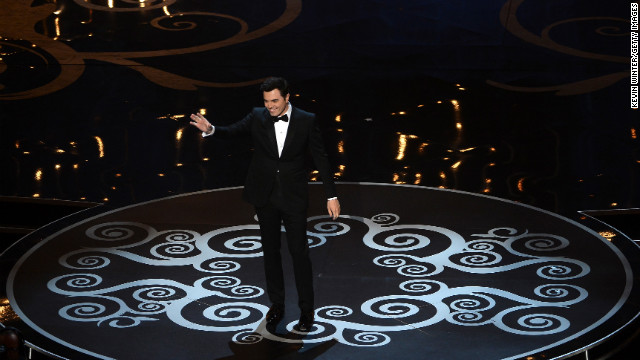 Oscar host Seth MacFarlane opens the show with a few jokes: "The quest to make Tommy Lee Jones laugh begins now" and "It's an honor that everyone else said no (to hosting). From Whoopi Goldberg to Ron Jeremy."
STORY HIGHLIGHTS
NEW: "Argo" wins best picture
NEW: Jennifer Lawrence, Daniel Day-Lewis win best acting honors
Ang Lee wins best director for "Life of Pi"
Adele's "Skyfall" wins best song; first James Bond theme to do so
(CNN) -- "Argo," which was an Oscar also-ran before it caught fire and won practically every guild and organization award available, took home the big prize at the 85th Academy Awards Sunday night: best picture.
"Lincoln" opened the awards season as the odds-on favorite to win the Academy Award for Best Picture by virtue of its landing the most nominations. But the snub of Ben Affleck in the Best Director category made his movie, "Argo," the sentimental favorite of the Golden Globes and the Screen Actors Guild, and the momentum of that sympathy vote is likely to carry over to Oscar night.
While "Lincoln" won't take home the top prize, it will nevertheless win the most awards (5), followed by "Les Miserables" (3), and then by a number of films taking 2 apiece: "Argo," "Silver Linings Playbook," "Life of Pi," "Skyfall" and "Django Unchained." A quintet of Oscars sans Best Picture won't exactly be a sweep, but it's a far better fate than that of "Zero Dark Thirty," whose hopes were torpedoed by political blowback even before it had a chance to open in theaters.
For movies opening Feb. 22, 2013
BIG BUDGET FILMS
"Dark Skies" (PG-13 for violence, sexuality, drug use and pervasive terror) Haunted house horror flick about a happy family (Keri Russell, Josh Hamilton, Dakota Goyo and Kadan Rockett) whose serene, suburban home life is irreversibly affected by the arrival of a deadly, demonic force. Co-starring J.K. Simmons, L.J. Benet and Annie Thurman.
I usually don't like to write about concerts after the fact because it tends to trigger regrets for those who missed it. However, if I follow that line of thought who am I to tell about the great time I had this past Sunday night at the Will Downing and Lalah Hathaway concert?
Local entertainer – and good friend – Karen Brown rocked the crowd as she belted out some of our favorite songs with her special spin on them.
I ask myself quite often, "Why doesn't the entire world know who Karen is?" She is immensely talented.
After 148 years, Mississippi has finally ratified the 13th Amendment, which bans slavery.
Dr. Ranjan Batra, associate professor of neurobiology and anatomical sciences at the University of Mississippi Medical Center, saw Steven Spielberg's acclaimed film "Lincoln" last November and was moved to search into Mississippi's past, according to the "Clarion Ledger."
The 13th Amendment received the three-fourth's vote it needed to pass from Congress in January 1864.
As an heir to the King of Pop, Prince Michael Jackson should not have to work, but at age 16, he has taken a gig as a reporter for "Entertainment Tonight."
After receiving an on-camera coaching session on journalism techniques from ET's Brooke Anderson, Jackson recorded his first interview. The topic: an upcoming remake of "The Wonderful Wizard of Oz."
"ET" will broadcast clips from the interview throughout this week.
Former Temptation member Damon Harris (born Otis Robert Harris Jr.) died Monday at 7:17 p.m. at the age of 61.
Harris was born on July 17, 1950 in Baltimore, Md. He took the place of Eddie Kendrick, one of the original lead singers of the Temptations group. His tenure was from 1971 to 1975.
The youngest member of The Temptations during his stint with the group, Harris was only 20 when he came aboard. Later, he formed a Temptations tribute band named The Young Tempts (aka The Young Vandals). The group had a release that charted on the Isley Brothers label T-Neck.
Oozing a sultriness like never before, Kerry Washington makes a bold statement as the latest EBONY® Magazine cover feature.
Hollywood's leading lady talks to EBONY about the significance of portraying such dynamic female characters – Olivia Pope on ABC's "Scandal" and the slave, Broomhilda, in "Django Unchained." She discusses the connection the two characters have, and how they relate to her personal life.
Washington on Olivia Pope: "In her professional life, she is so powerful and is this self-made woman...But in (Olivia's) personal life, she is a mess and I kind of love that...I love that I get to embody all of that complexity because I also think it takes a certain level of progress for us to have a Black Woman that powerful be an emotional mess on television."
Michael Ealy feature films include "Think Like a Man," "Barbershop," "Seven Pounds," "2 Fast 2 Furious," "Never Die Alone," "For Colored Girls," "Miracle at St. Anna," "Takers" and "Underworld: Awakening. In 2007, he received a Golden Globe Award nomination for his role in Showtime's "Sleeper Cell." Meanwhile, on TV, he's appeared in ABC's "Flashforward" and CBS's "The Good Wife."
Here talks about starring in "Unconditional," an inspirational, faith-based feature. In this bittersweet tale of redemption, he portrays Papa Joe Bradford, a real-life role model who, despite kidney disease, teams with a recently-widowed, childhood friend (Lynn Collins) to make a difference in the lives of needy kids in Nashville.
When a rapper says he's gonna "pop a pill" then "beat that p*ssy like Emmett Till," that's when we know that he might have gone just a little bit too far. But that's just what happened this week, and the Till family isn't happy.
Lil Wayne and Future, two very talented hip-hop artists, have decided to push the envelope of disrespect by releasing a song called "Karate Chop." In the song, Lil Wayne takes the liberty of turning the mutilated face of Emmett Till into a weary s*x organ, ridiculing the agony experienced by this young man many years ago.
The matter is made is even sadder by the fact that Till's legacy was trampled by Lil Wayne, Future and Universal Records right in the middle of Black History Month.
For movies opening Feb. 15, 2013
BIG BUDGET FILMS
"Beautiful Creatures" (PG-13 for violence, sexuality and scary images) Supernatural fantasy, set in a sleepy South Carolina town, revolving around the budding romance between a high school sophomore (Alden Ehrenreich) and a mysterious new classmate (Lena Duchannes) who's identical to the girl of his dreams. Stellar supporting cast includes Oscar-winners Jeremy Irons and Emma Thompson and nominee Viola Davis, along with Emmy Rossum.
Subcategories